Accepting Bitcoin payments is smart for your business, as it allows you to tap into a growing market and offer your customers a convenient and secure payment method. It can also reduce transaction fees and increase the speed of payments.
Good news – it's easier than you might think!
This guide will walk you through how to accept Bitcoin payments as a business owner. We'll cover everything from setting up a Bitcoin wallet to integrating Bitcoin as a payment option on your website or online store.
Should You Accept Bitcoin Payments?
As popular as cryptocurrency has become, it continues to split opinions. In every ardent cryptocurrency fan, there is an influencer talking it down. For instance, you hear all the positive talk about crypto, and the next minute, you hear an influential person terming it "worthless." And so, the big question is whether you should accept crypto payments for the products or services you offer.
Admittedly, it gets confusing, and if you don't fully understand how crypto works, accepting crypto payments on your business might be risky. Therefore, we recommend intensive research about the cryptocurrency market and your customers to determine whether accepting Bitcoin in your business is in your best interests.
This post will guide you through. But first, how do Bitcoin payments compare to the current norm, credit card transactions?
Bitcoin Payments Vs. Credit Card Payments
Image Source: coinspaid.com
Payments on Bitcoin are usually processed on the blockchain, whereas payment on a credit card goes through a payment processor.
For Bitcoin payment, the speed of transaction time can vary; it can be instant or take 10 minutes or more, depending on the current network activity. Conversely, transactions are processed instantly on credit card payments.
The processing fee on Bitcoin transactions is up to 1% depending on whether you use a payment tool, while with credit card payments, the processing fees range from 3% to 3.5%.
There is no option to talk to customer support to deal with merchant and client disputes or solve Bitcoin payment issues. On the other hand, credit card usage offers access to customer support; however, credit card companies mostly side with the customer during disagreements.
Regarding security, merchants aren't responsible for fraudulent Bitcoin payments. In contrast, on credit card payments, merchants are usually responsible for stolen or fraudulent credit cards for card-not-present transactions.
Customers can't charge back transactions on Bitcoin payments, while credit card payment chargebacks cost the merchant about a $25 fee, depending on the processor.
What Are the Advantages and Disadvantages of Accepting Bitcoin Payments?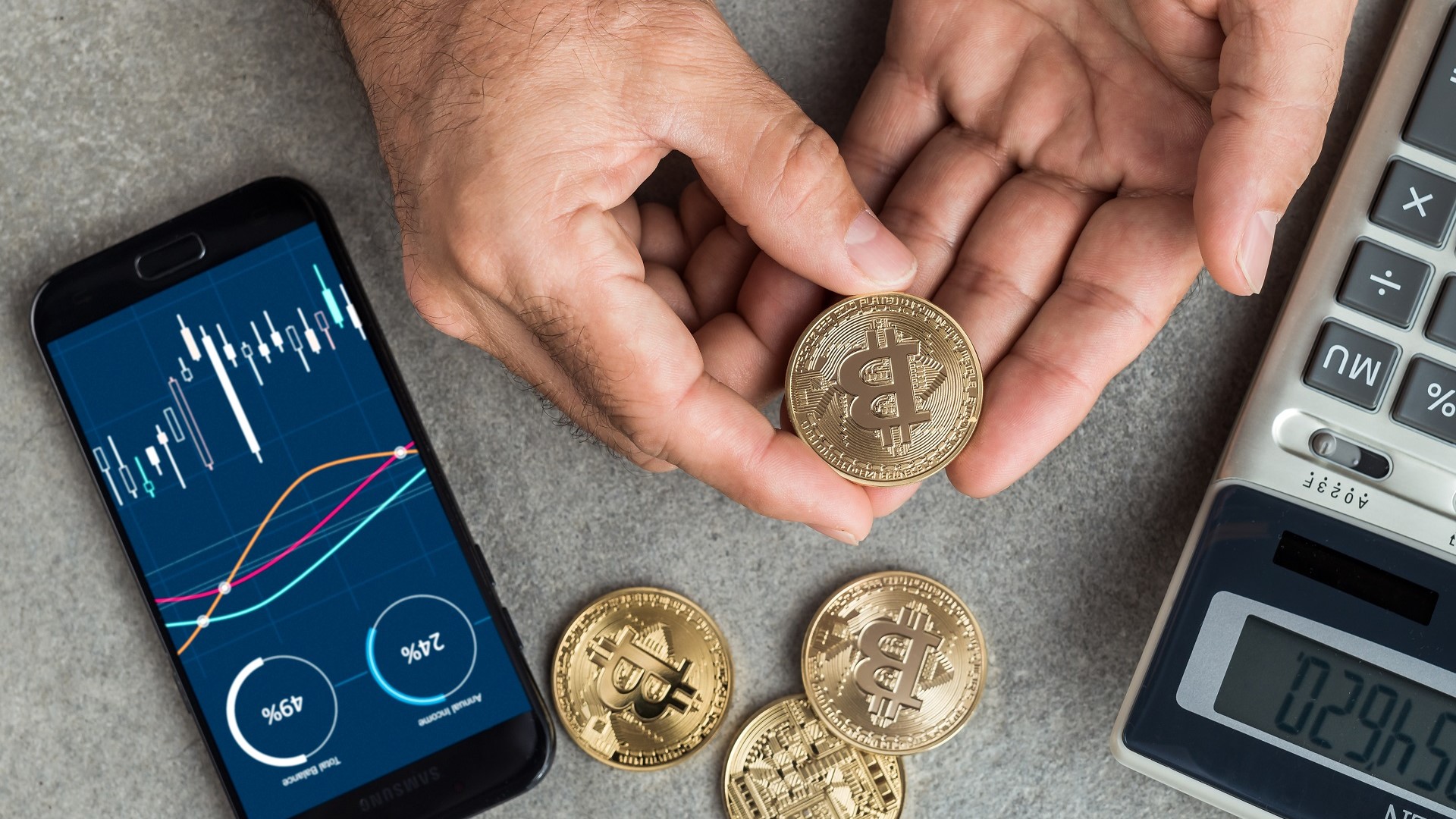 Image Source: gobankingrates.com
Advantages
You don't have to worry about chargebacks or PCI compliance.
Lower transaction costs.
Holding Bitcoin in your account can be an investment opportunity; the payments you accept can become more valuable with time.
It can attract more customers who prefer crypto as a method of payment.
It makes international transactions easier and allows customers to buy from you without incurring high exchange rates.
Disadvantages
If you decide to hold Bitcoin, you will be subject to extreme price volatility. This might result in significant losses for your business if you were to sell when the price is low.
Depending on the current network activity, Bitcoin transactions might take 10 minutes or longer to process.
It may take time to keep up with the rapid changes in crypto technology and regulation.
You could face complex implementation challenges, like tax preparation and managing customer returns.
Steps on How To Accept Bitcoin Payments
Image Source: pcmag.com
1. Understand Local Bitcoin Regulations
First, before accepting cryptocurrency payments, familiarize yourself with your country's crypto regulations, as these rules vary by state and nation. Besides, the standards can change your decision on whether to accept crypto or stick to traditional payment methods.
2. Set Up a Bitcoin Wallet
After familiarizing yourself with local regulations on Bitcoin payments, you can set up a crypto wallet (crypto payment gateway). A Bitcoin wallet is a software program that stores your Bitcoin balance and allows you to send and receive Bitcoin.
There are several types of Bitcoin wallets, including online wallets, software wallets, and hardware wallets. Hence, choose a wallet that meets your needs and is secure.
3. Choose a Payment Processor
A payment processor is a platform that helps you accept Bitcoin payments by converting the Bitcoin you receive into your local currency and depositing the funds into your bank account. Some popular payment processors for Bitcoin include Coinbase, BitPay, and Coinpayments.
4. Enable a Bitcoin Payment Option on Your Checkout Process
Once a payment processor is set up, you can add a Bitcoin payment option to your checkout process. This can be done by integrating payments with HTML code from the Bitcoin wallet, allowing customers to choose Bitcoin as their payment method.
5. Display Your Bitcoin Address
You'll need to display your Bitcoin address on your website or any other communication channels where you accept payments. For example, it can be in a link or QR code. This is the address where customers will send their Bitcoin payments.
6. Accept Payment
When a customer wants to make a payment, they will send the right amount of Bitcoin to your wallet's address. Then, you can use a Bitcoin payment processor to handle the transaction and transfer the funds to your local currency.
7. Keep Track of Your Transactions
Keeping track of your Bitcoin transactions is important, especially if you accept large amounts. You can use Bitcoin accounting software to help with this task.
8. Stay Up-to-Date
The world of Bitcoin and cryptocurrency is constantly changing, so it's important to stay up-to-date on the latest developments. So, try to follow cryptocurrency news.
Best Bitcoin and Crypto Payment Processor
BitPay provides various payment options for your customers, including payment buttons, embeddable invoicing, hosted checkouts, and a slew of plugins and integrations. The payment options are easy to set up, so you can receive Bitcoin payments immediately.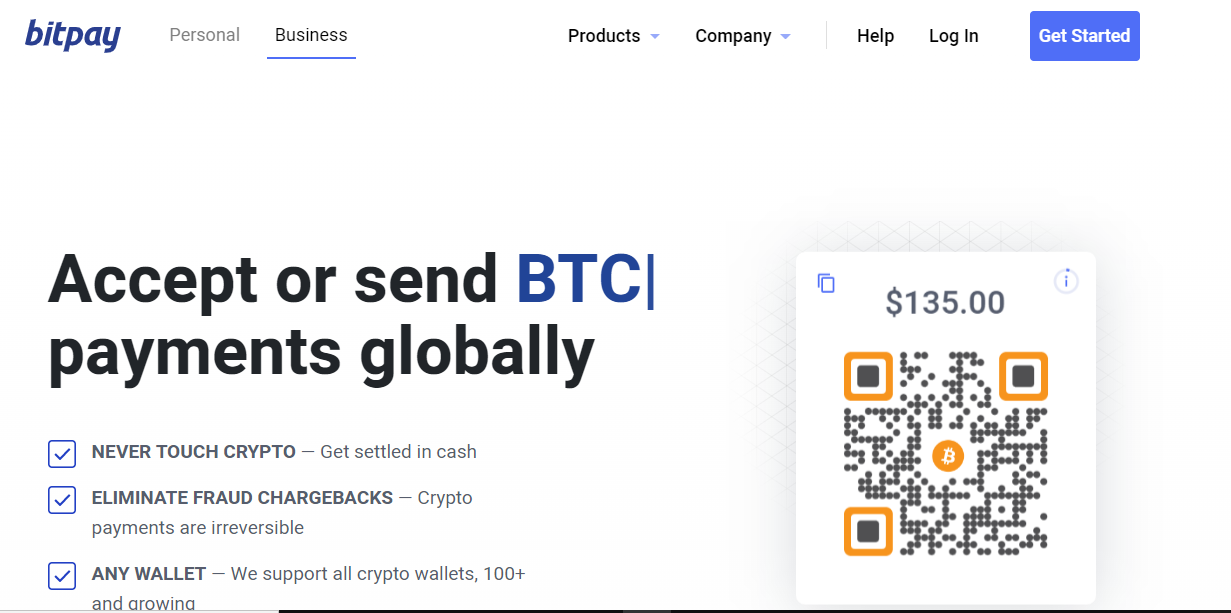 Image Source: bitpay.com
During the checkout, the payment method usually displays a QR code that customers can scan for an online invoice they will need to pay. It only charges a 1% transaction fee for bitcoin payments.
Furthermore, BitPay helps protect you from price volatility features through its Zero Price Volatility. When a customer initiates a payment, it evaluates exchange rates using the most competitive rate and doesn't charge a markup. For 15 minutes, the customer's exchange rate is guaranteed.
BitPay works similarly for in-store payments apart from the QR code on the cashier's mobile device.
Coinbase Commerce usually makes it easy for businesses to start accepting Bitcoin payments. With a great app and outstanding compatibility with most e-commerce platforms, you can start accepting Bitcoins immediately.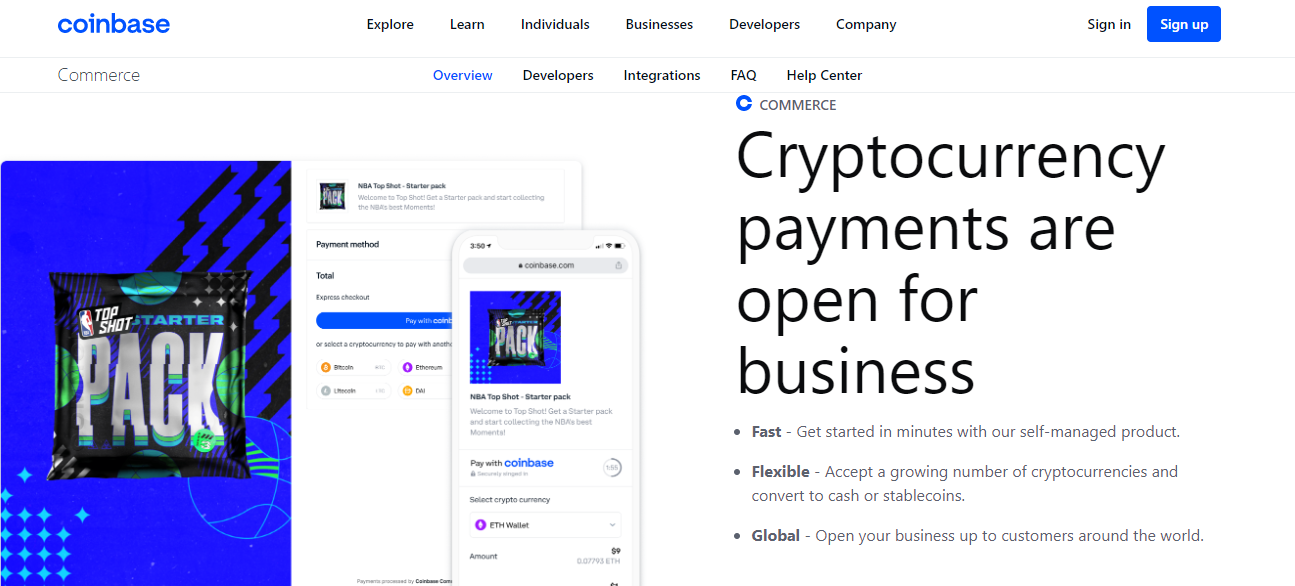 Image Source: coinbase.com
Besides accepting Bitcoin payments, it accepts six other cryptocurrencies, sends invoices, and uses transaction reporting tools to account for and reconcile them effectively.
It's a high-security option to protect you from currency fluctuations, with quick exchange from cryptocurrency to your fiat currency. Moreover, with the flexible price options, it usually offers something for all businesses. The price per transaction is 1%.
How does Paypal work when accepting crypto payments? Can you buy crypto with PayPal?
Customers with US cryptocurrency holdings can purchase their favorite cryptocurrency automatically. The crypto is usually converted to your fiat currency (e.g., US Dollar, Euro) at the point of sale, and you will be paid as usual.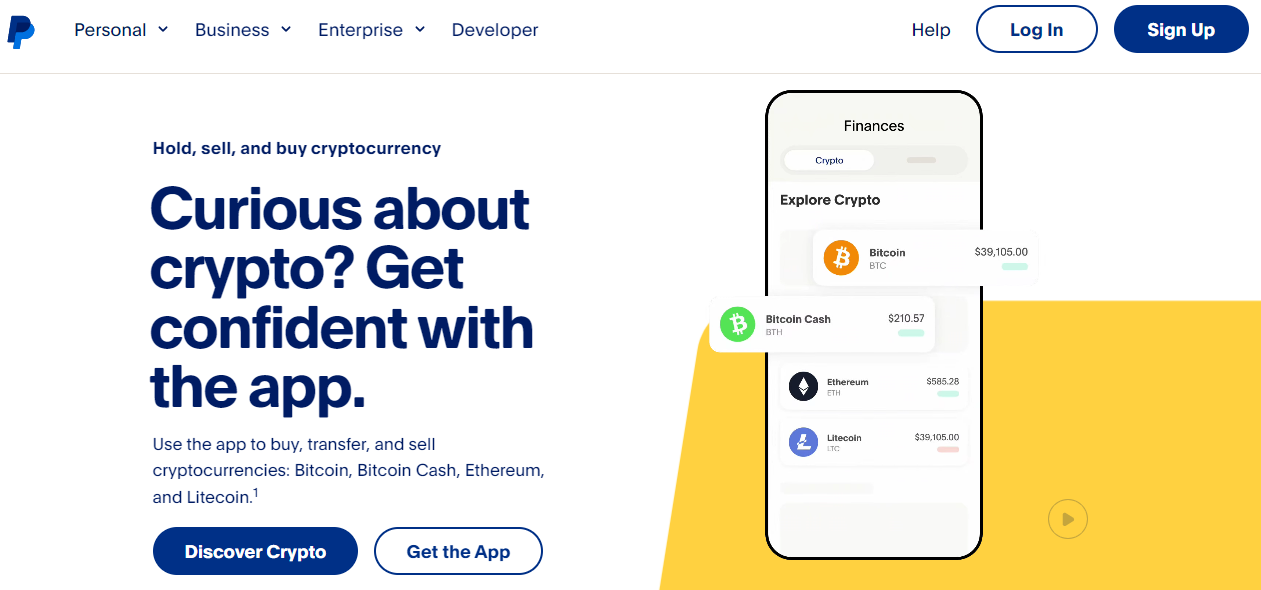 Image Source: paypal.com
As a business owner, you will not directly accept bitcoin payments. Nonetheless, it allows more customers to pay for your products and services with crypto or accept digital payments.
Apart from accepting bitcoin transactions, CoinPayments allow accepting other crypto payments and charges a 0.5% processing fee per crypto transaction and 1% for token payments.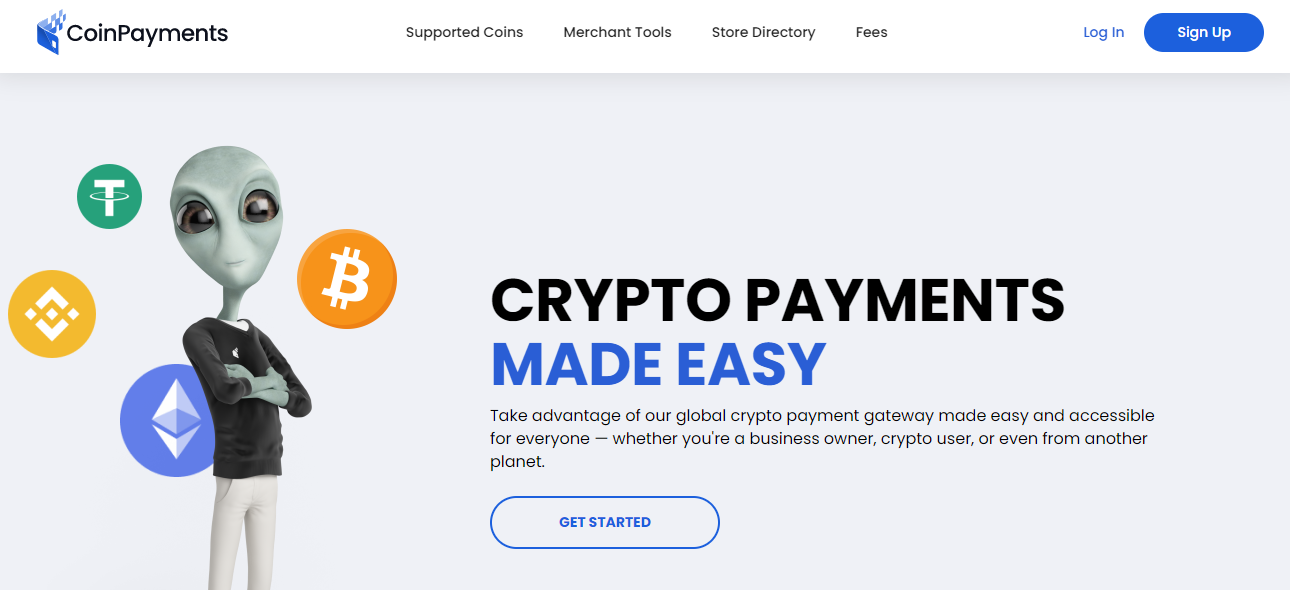 Image Source: coinpayments.net
You can integrate it into the checkout process, send invoices, add payment and purchase now buttons to any page on your business website, and use the open API to personalize the customer experience. Besides, CoinPayments also has point-of-sale(POS ) integrations.
GoCoin is another payment processor that allows businesses to easily accept Bitcoin and other cryptocurrencies such as Bitcoin, Bitcoin Cash, Litecoin, Ethereum, EOS, and Dash as payment.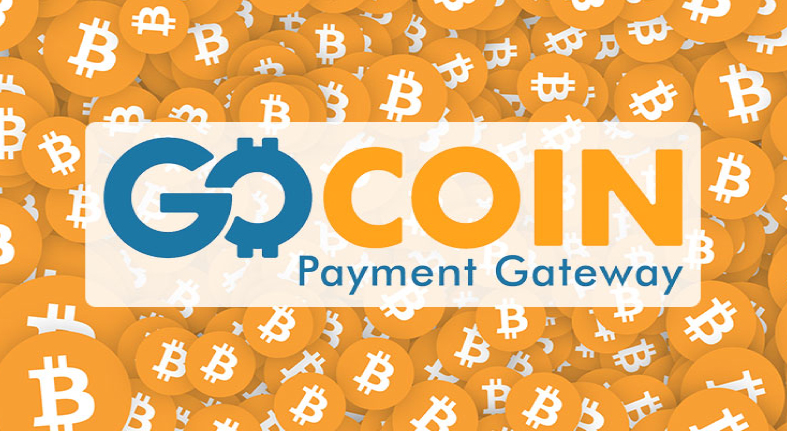 Image Source: bancosfinanzasvalores.com
The payment processor usually charges a 1% transaction fee and works with most e-commerce platforms, including WooCommerce, Shopify, ZenCart, OSCommerce, Magento, OpenCart, and Prestashop.
What to Consider Before You Accept Bitcoin Payments
1. Transaction Fees
Before accepting bitcoin payments to your business, consider how much each transaction will cost you and whether it's worth it. The good news is that Bitcoin transaction fees are usually low compared to other forms of payment.
2. Crypto Volatility
In the first half of 2021, Bitcoin experienced the highest volatility, unlike any other year. Volatility is usually a metric used to calculate how much the price of an asset has changed over time. The higher the volatility of a crypto asset, the greater the potential for bigger returns or lower losses over shorter periods than those with lower volatility.
Image Source: forbes.com
Therefore, to keep track of your small business's real income, you should have invoice copies that include the bitcoin price at the time of the transaction.
3. Payout Frequency
Consider the payout frequency when accepting bitcoin payments if your business requires a consistent and steady flow of money. For instance, some bitcoin payment processors usually make payments daily, while others can take up to five days to process your payment. So, if your business requires speedier cash processing, ACH payments are recommended.
4. Supported Countries
Not all countries support bitcoin payments. For instance, China recently banned all crypto transactions in the country. So, with varying restrictions in different nations, it's crucial to consider whether to accept Bitcoin payments.
5. Taxation
Before you can accept crypto payments, familiarize yourself with the tax charges. Each government is working on implementing regulations and guidelines for crypto transactions, while some are already in place. Therefore, before accepting payments, do considerable research to understand the tax implications of your country.
Frequently Asked Questions on How to Accept Bitcoin Payments
1. Can Small Businesses Accept Bitcoin?
Yes. There are no restrictions on the size of businesses that can accept Bitcoin. Accepting Bitcoin and other cryptocurrency payments as a business owner can help you stay competitive, attract new consumers, and cut your payment processing expenses.
2. Is Accepting Bitcoin as Payment Legal?
Yes. The Internal Revenue Service (IRS) considers cryptos to be "property" for tax purposes. This implies that if you accept crypto, you must record it as gross income when it was received, depending on its fair market value.
3. How Can I Manually Accept Bitcoin payments?
The manual Bitcoin payment process is quite easy, as it is initiated by the customer making a payment from their crypto wallet. They only require the recipient's crypto payment address. Alternatively, businesses can create a QR code that customers can scan and pay with.