Cryptocurrency payment solutions allow businesses to accept cryptocurrency payments from clients in exchange for goods or services. Because of the nature of blockchain-based cryptocurrencies, these systems place a premium on security and accept payments from any country.
To minimize the volatility of the cryptocurrency markets, transactions made by clients using cryptocurrencies as payment are routed via payment solutions at a predefined exchange rate and automatically converted to commonly recognized fiat money. On the other hand, not all cryptocurrency payment gateways do convert cryptocurrency to traditional currency right away, allowing the retailer to hold the virtual currencies for as long as they like, often in a cryptocurrency wallet.
This post closely examines some of the best cryptocurrency payment solutions for all businesses. We selected these payment methods based on their usability, security, and capacity to support a wide range of cryptocurrencies.
What Is a Crypto Payment Solution?
A crypto payment solution is a customizable payment processing platform that allows vendors and merchants to accept payments in numerous cryptocurrencies without jeopardizing their security. It allows customers to transfer money straight from one Bitcoin wallet to another.
Additionally, the decentralized structure of blockchain excludes middlemen like banks from the payment process, which speeds up transactions and reduces the number of stages required for payment processing. In the end, this mechanism encourages more individuals to utilize digital currencies and helps decentralized gateways gain popularity.
Besides swiftly confirming the transactions and eliminating third parties from the payment system, crypto payment gateways offer a few special benefits to both the user and the merchant.
How Do Cryptocurrency Payment Methods Operate?
For those who are familiar with traditional payment methods, understanding the crypto payment gateway's process is not complex. Blockchain technology is the foundation of cryptocurrency payment gateways. They replace credit cards with digital wallets, which require retailers to create merchant accounts in order to accept cryptocurrency payments.
As a result, the transaction takes place on a decentralized peer-to-peer network where nodes trade payment information, carry out validation, and transmit it to the distributed ledger. Keep in mind that both parties engaged in the payment process use their wallet address as their identification in this case.
Blockchain saves transaction information and guarantees the transactions' immutability whenever a block containing data is added to the chain. As a result, a crypto payment gateway enables users to transmit cryptocurrency in exchange for a specific good or service using a decentralized payment paradigm. Here are the steps that demonstrate how the crypto payment gateway works in the real world:
When a user puts an order, the app captures the payer's information (such as wallet address, etc.), encrypts it, and sends it to the merchant's web server through an SSL connection.
The merchant scans the blockchain using the integrated payment gateway, where nodes check and confirm the transaction.
After being validated, coins are delivered to the merchant account, and the payment gateway notifies both sides of a successful transaction as soon as it is done.
The cryptocurrency payment gateway also allows the company to convert cryptocurrencies to fiat currency at any time at the current exchange rate.
In this method, businesses may process payments in a number of cryptocurrencies and receive deposits in a wide range of fiat currencies into their merchant accounts.
Best Crypto Payment Solutions
1. Rapidz
Rapidz is a leading cryptocurrency payment processor with specific features for merchants to accept crypto payments. It supports up to 10 types of cryptocurrencies in more than 100 countries, making it a great all-around and universal solution for all merchants.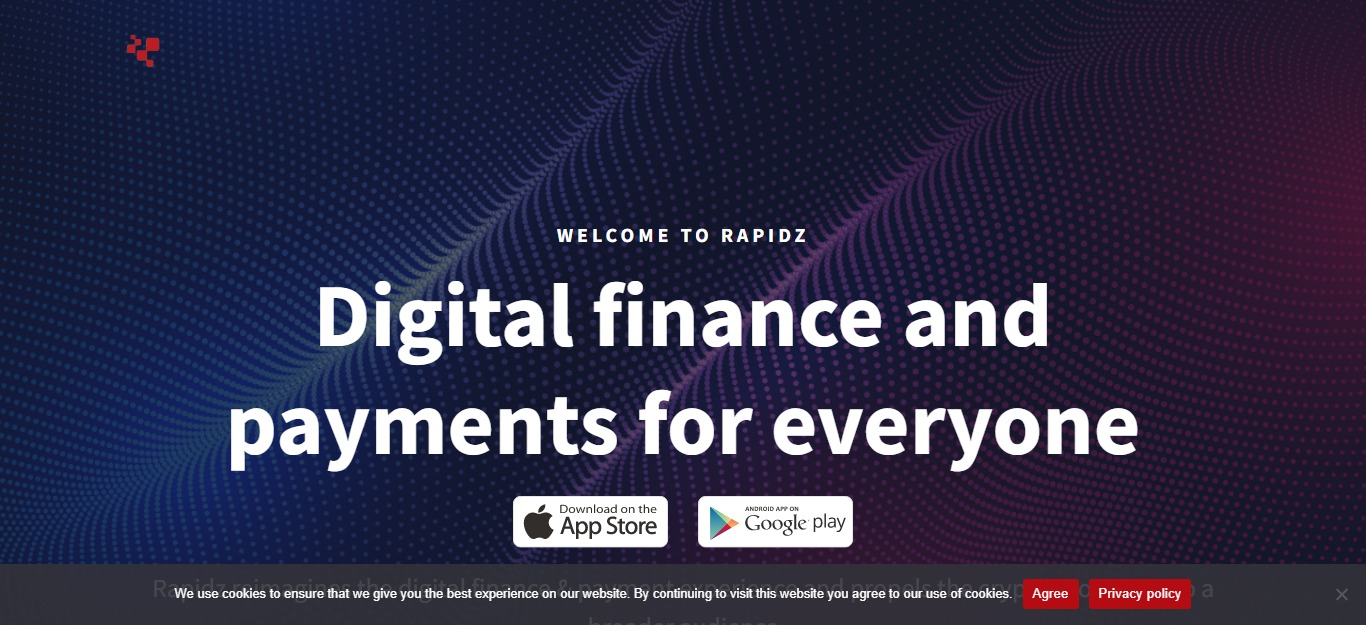 Rapidz allows for almost instantaneous transactions as a cryptocurrency payment processor, which is speedier than traditional options. Plus, this payment solution is much cheaper than others. Depending on your network, the transaction fees will range from $1 at most to as low as $0.30, regardless of the amount transferred.
Besides, this crypto payment gateway has a Tether blockchain payment system that is reliable and ensures the transactions are more secure and safe.
2. CoinsBank
CoinsBank is well-known in the blockchain industry for its fantastic features, which include a blockchain payment gateway, a wallet, an exchange, merchant capabilities, and even a trading platform where users may trade crypto.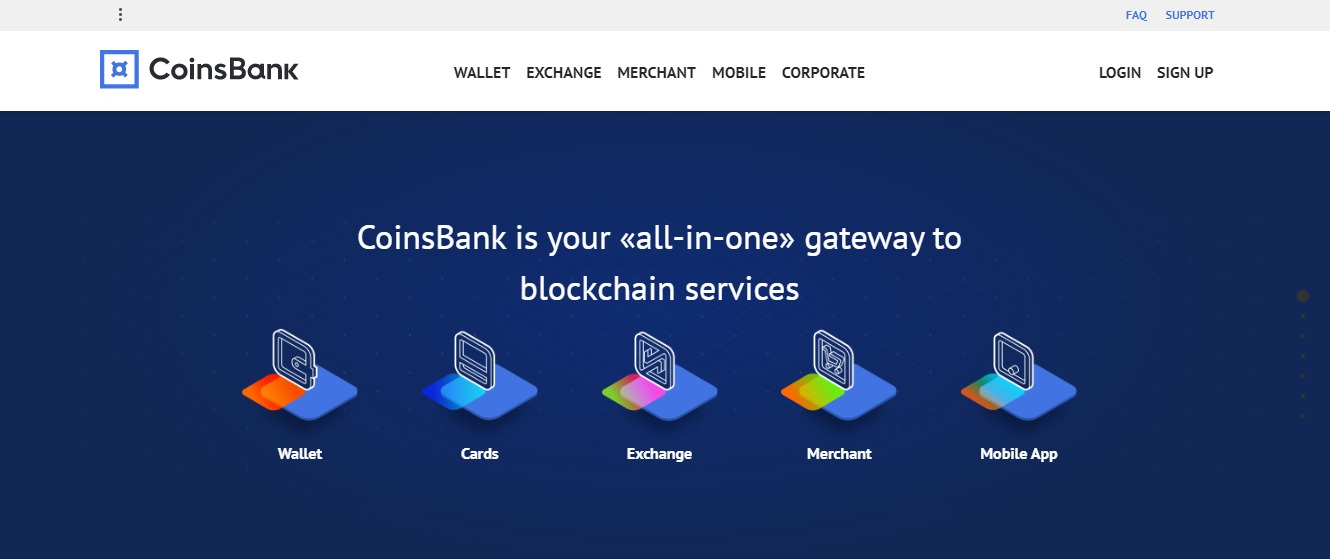 Users of CoinsBank can simply manage their wallets and balances using their native applications and connect their wallets to their debit cards. The blockchain payment system also lets customers access their money instantly and provides cutting-edge security features like two-factor authentication.
CoinsBank also accepts major fiat currencies such as the US dollar and the Euro. It's a terrific payment option for businesses because of the speed with which deposits and withdrawals are processed. Furthermore, there are no additional costs for using CoinsBank's 24-hour transfer service. It protects your bank account or cryptocurrency wallet with two-factor authentication and meticulous transaction and activity verification.
Although CoinsBank debit cards are not yet available, the solution is accepted worldwide and makes purchases quick and easy.
3. BitPay
BitPay is one of the initial Bitcoin payment processors to provide cryptocurrency trading as well as merchant payment gateway solutions. BitPay is popular among users because of its user-friendly platform and customizable security and payment choices. However, its volatility shield function is what sets it apart. Because BitPay fixes the currency rate in force at the moment of the transaction, users receive the exact amount they requested into their account.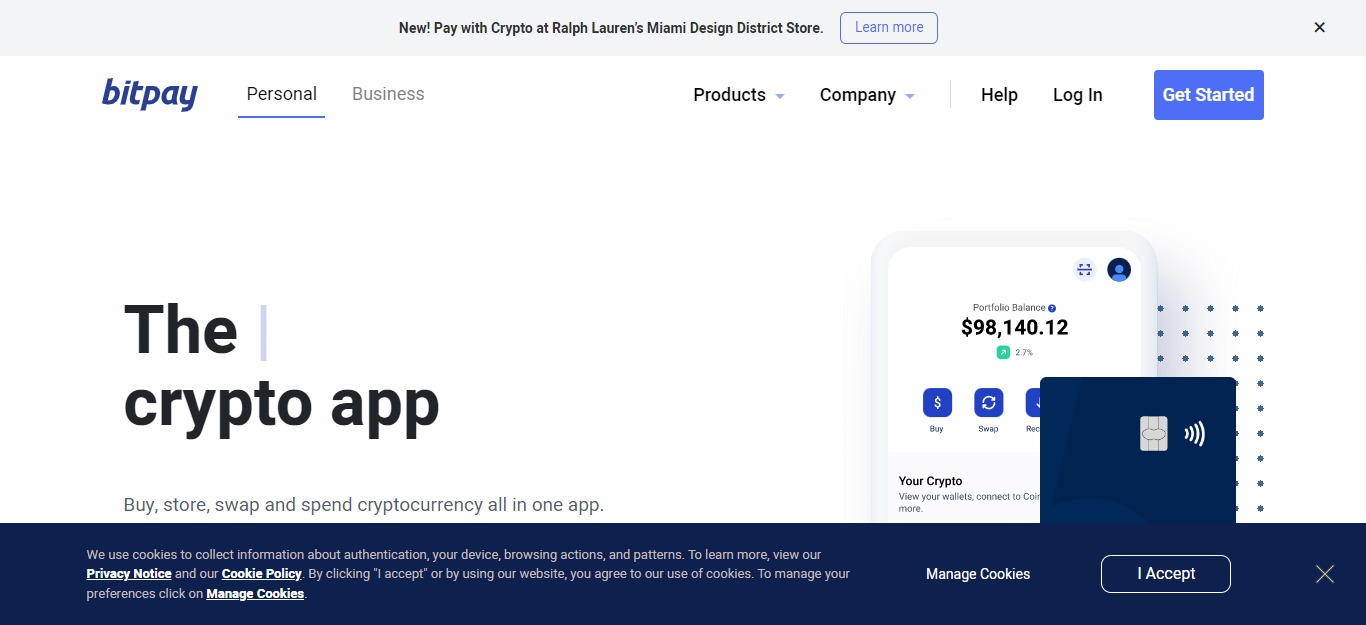 Because of this, BitPay is perfect for businesses that just wish to take payments for goods and services and steer clear of currency fluctuations that might lead to financial losses. With this crypto payment processor, you can build hosted checkouts, set up payment and contribution buttons, and make invoices that you can embed on your website.
It also offers a mobile point-of-sale (POS) capability if you want to accept crypto payments at the cash register with the BitPay checkout app. Payouts are done on a daily basis, and you can keep an eye on them in your BitPay dashboard.
4. Coinbase
Coinbase is a cryptocurrency payment gateway that is designed to make it simple for companies to accept crypto payments in multiple kinds of cryptocurrencies, such as Bitcoin, Ethereum, and others. Coinbase is a well-liked option for businesses due to its user-friendly interface and smooth integration into current e-commerce platforms.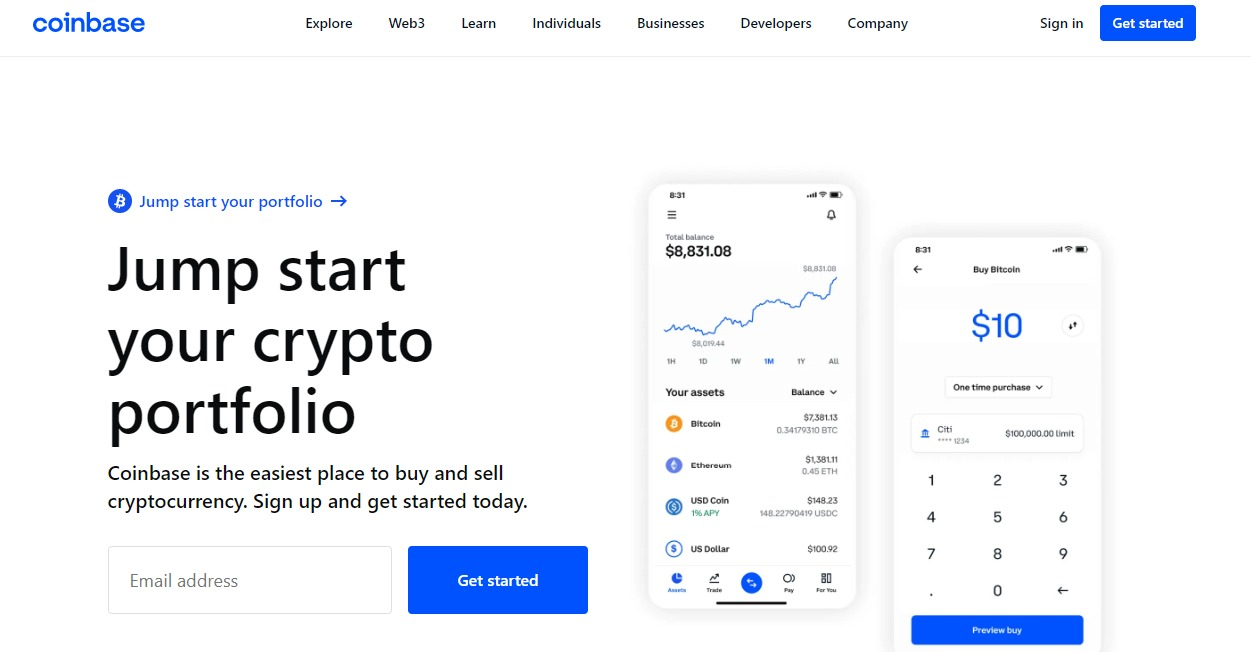 Since Coinbase also provides secure storage for Bitcoin assets, you can be sure that your money is safe. The platform's cutting-edge security protections, like multi-signature technology and encryption, ensure that your assets are always protected.
Coinbase offers straightforward pricing, so you always know what you're paying for, in addition to securely keeping client data and supporting a number of cryptocurrencies. Because the platform does not charge any additional fees, you can be confident that the price you see is the price you pay.
Additionally, you may always obtain the assistance you require, regardless of the hour, thanks to its 24/7 service.
5. CoinGate
CoinGate is one of the well-known blockchain payment systems that provide a customer-friendly checkout experience for secure cryptocurrency payments. In addition to cryptocurrencies, it enables businesses to take payments in conventional currencies like USD, EUR, and so forth.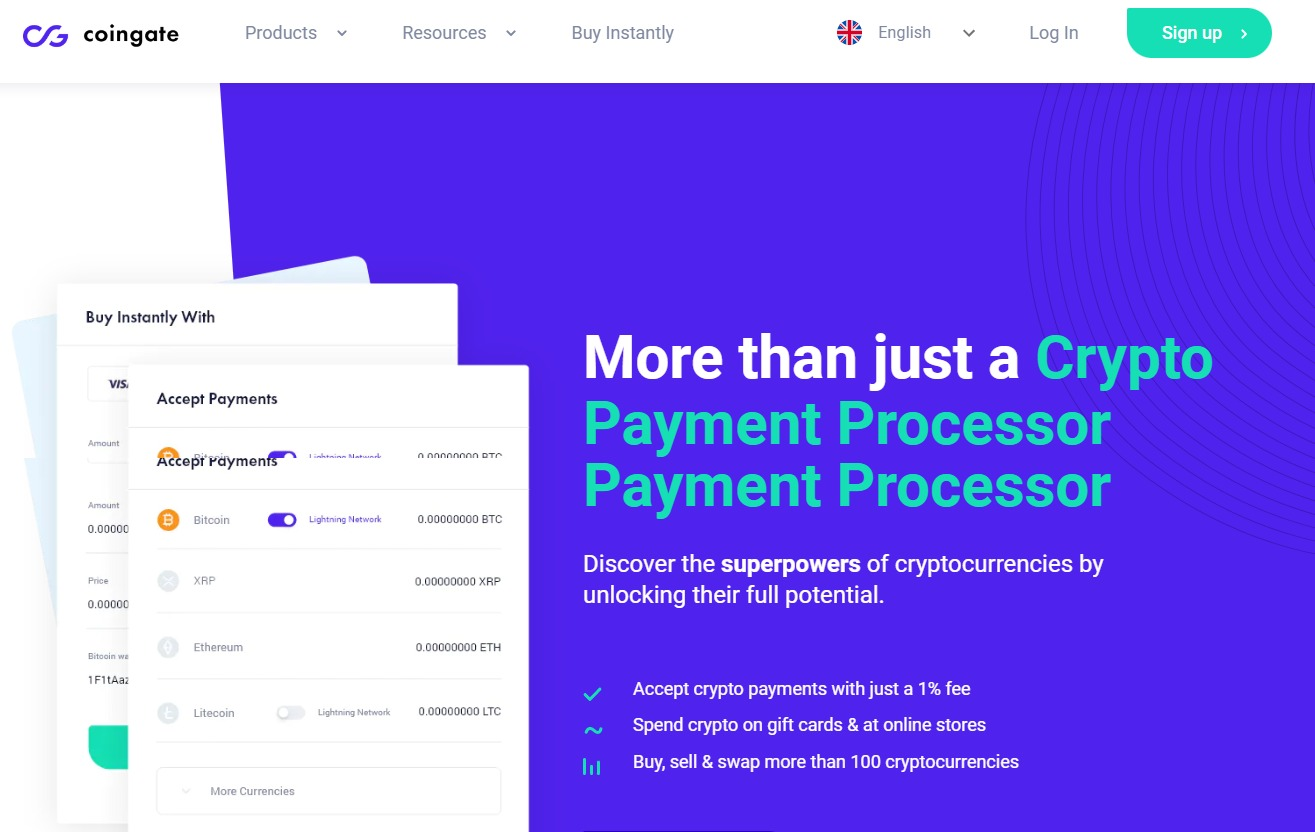 This payment provider accepts over 70 cryptocurrencies, including Bitcoin, Bitcoin Cash, Ethereum, Litecoin, and Ripple. The majority of cryptocurrencies are kept by CoinGate in safe cold storage, and each transaction has a 1% transaction fee.
Merchants can incorporate it into their websites via an application programming interface (API) and plugin for specific e-commerce platforms, such as WooCommerce and Magento. They can use SEPA or Bitcoin to withdraw the money. Also, invoices created using CoinGate can be sent through email or a link.
6. GoUrl
If your business does not have a bank account, receiving Bitcoin using GoUrl is an excellent choice. It provides a high level of secrecy and is compatible with various Bitcoin wallets. Its WordPress plugin is quite popular due to how simple it is to incorporate. The plugin is likewise free and open source, with no monthly fees.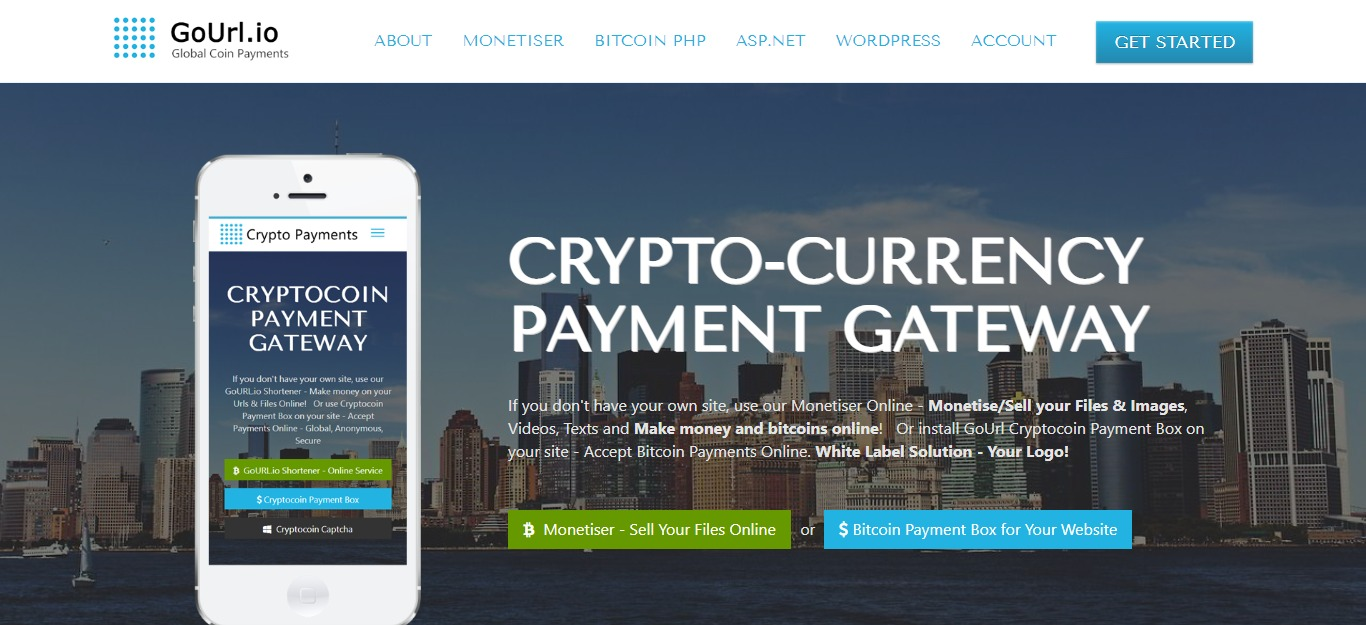 GoUrl makes order management simple by providing transparent payment breakdowns. Payments are processed within 30 seconds after being made. However, keep in mind that costs are high compared to other payment options, with 1.5% applied to all website purchases.
7. ALFAcoins
Alfacoins is one of the top payment processors for companies that accept cryptocurrency. Using an API, an e-commerce plugin, and widgets, it may be connected to your current payment system or website.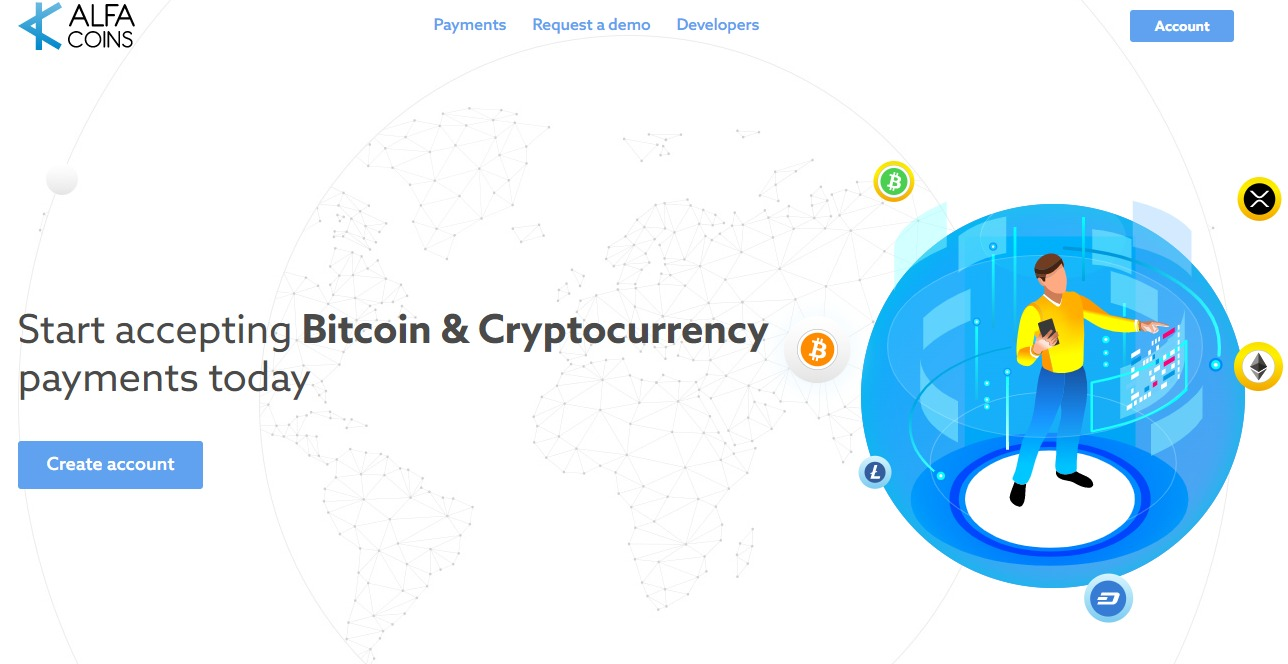 It enables the division of payments between cash and cryptocurrency. As a consequence, companies are able to hold a specific quantity of Bitcoin and profit from its growing value.
Alfacoins has a transaction fee of 0.99% but levies no additional fees for installation or subscription. An additional benefit is that ALFAcoins can be used anywhere except Iran and North Korea. It supports significant fiat currencies, including the US dollar, Euro, and Pound Sterling.
8. SpicePay
SpicePay is a blockchain payment platform that enables anybody, anywhere in the world, to easily and cheaply accept crypto payments. The fact that it enables companies to withdraw cryptocurrency payments using PayPal and debit cards is one of its biggest advantages.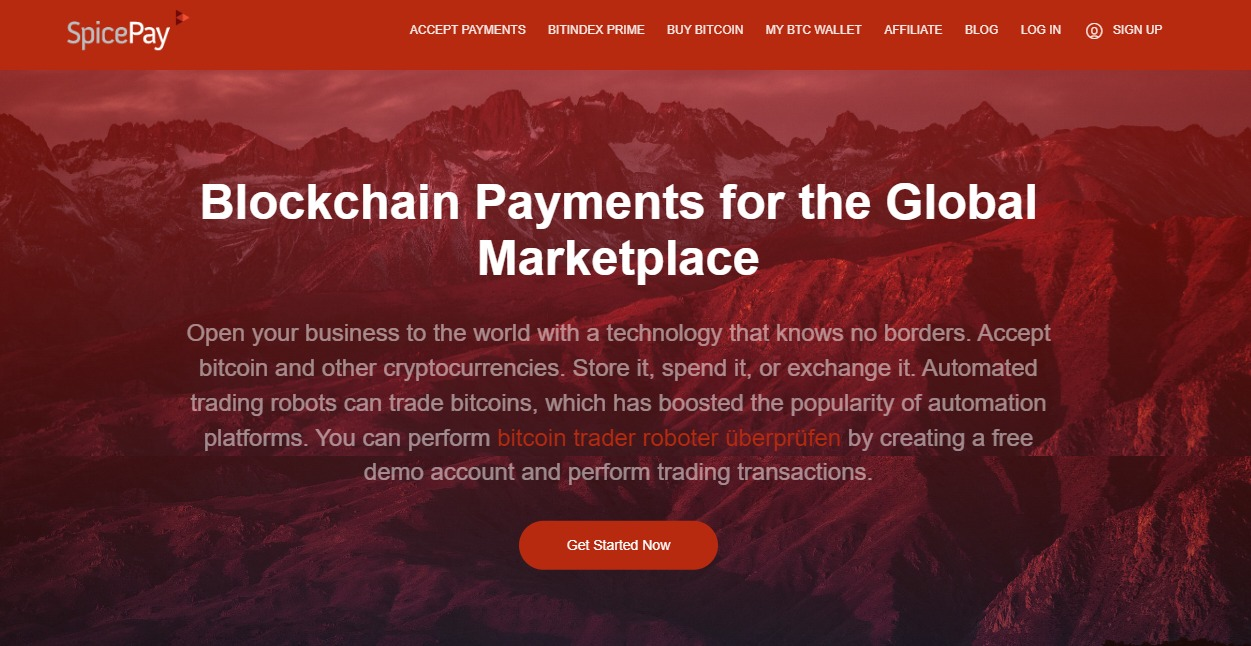 Withdrawals are accessible in USD, EUR, CAD, and GBP, and dashboard technology can assist shops in automating their currency options. Euro transfers can take up to 24 hours to complete, making them longer than some of the more fast trades.
SpicePay enables businesses to set up Bitcoin payments via iframes, email invoices, plugins, buttons, and payment APIs. For a limited period, you may benefit from free transactions as a new company. Also, SpicePay typically charges 1% for each transaction.
9. NOWPayments
NOWPayments is a revolutionary, scalable, and secure blockchain payment system that enables companies to start accepting crypto payments. Although the company advertises inexpensive costs, it operates with great openness. Transaction costs begin at 0.4%.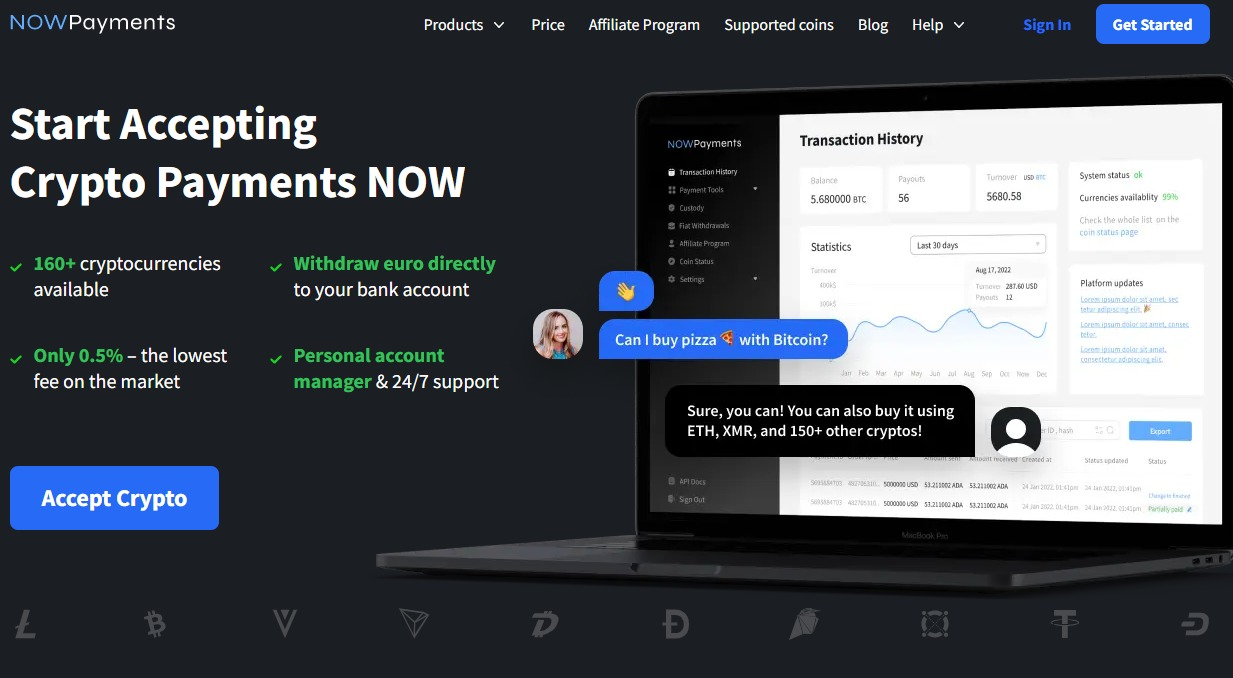 NOWPayments accepts over 100 cryptocurrencies, which may be exchanged into cash or another cryptocurrency of your choice. It is simple to install and integrate the system into your website. Furthermore, using this crypto payment system, you can easily convert payments from fiat currencies to cryptocurrencies and back.
Additionally, it is compatible with several platforms, including Shopify, WooCommerce, Magento, and others. When you sign up for its network, you receive access to account management services and 24-hour customer support.
Key Features You Should Look for in a Cryptocurrency Payment Gateway
1. Integration
You and your clients will be more willing to make crypto payments if they are part of an overall pleasant user experience. The goal is to proceed from your shopping basket to a cryptocurrency payment window without stumbling through illogical user interfaces. Choose a gateway that works well with the processing you are already doing.
2. Volatility Shielding
Cryptocurrencies are often far more volatile than fiat currency; the price you're quoting right now might not be valid in a minute. Most payment gateways have a price stability option that ensures you'll get paid the amount you specified when the sale was made. Although not all businesses will require this functionality, it can simplify your life.
3. Access to Multiple Cryptocurrencies
Although the majority of crypto gateways support Bitcoin, Bitcoin Cash, and Litecoin, those cryptocurrencies makeup just a small portion of all available ones and, aside from Bitcoin, aren't even necessarily the most well-known. You might as well provide your consumers with alternatives, as accepting more cryptocurrencies doesn't actually incur any further costs.
4) Multiple Options for Settlement
Since trading is the foundation of the cryptocurrency world, being able to accept payment in any currency, including cash, will help you get the most value from your transactions. Ensure you are also not paying a huge price for this convenience. Naturally, you'll also want to confirm that you can receive payments in the chosen fiat currency.
5) Cost
A Bitcoin payment gateway's typical transaction charge hovers around 1%. However, keep in mind that the payment providers could impose extra charges for payments or conversions to cash. Although they are not within the control of the payment gateway and are not paid to the gateway operator, network costs are another thing to bear in mind.
Bottom Line
The use of blockchain technology for payments has the potential to solve several problems with current payment systems. Businesses that have difficulties utilizing centralized payment systems might be privy to the many advantages of blockchain payment gateways.
As the technology develops, we can predict that more businesses will start using blockchain payments to speed up transactional operations, reduce the cost of processing payments, improve data security, and handle significant business risks.