Do you want to invest in a crypto-currency like Bitcoin, Doge, Binance coin, and more? Here's an idea to get started: buy Crypto Voucher with credit card!
Sounds easy, right? It is a convenient payment method and offers several advantages, such as faster processing times and protection against fraud. However, it is a process you need to get right, starting with where to buy the vouchers, which credit cards to use, and even how to redeem them for crypto.
So, read on as we detail everything you need to know below! If you are new to crypto, tune into these podcasts to learn more about crypto and digital assets.
What Are Crypto Vouchers?
If you want to purchase crypto-currencies online, a Crypto Voucher is one of the best avenues. Crypto vouchers are gift cards that allow you to buy cryptocurrency online.
Examples of crypto that can be purchased through Crypto Vouchers include Litecoin, Ethereum, Binance coin, Dogecoin, USD Coin, XRP, and Bitcoin. Think of it like a virtual prepaid card that you can exchange for a cryptocurrency of your choice.
You can buy a Crypto Voucher from the official system website or authorized Crypto Voucher distributors. Upon buying, the Crypto Voucher system will forward an email notifying you of the successful purchase and providing a unique Crypto Voucher gift card code.
With a Crypto Voucher, you will avoid the hassles associated with purchasing crypto directly from a centralized exchange. A voucher is also a great alternative to buying crypto through Apple Pay and Visa gift cards. The vouchers are available in various denominations and can be given as gifts. You can also cash into the multi-billion dollar cryptocurrency market by selling them.
To pay for products, purchase Bitcoin, or trade in crypto, you can redeem your gift card balance in any cryptocurrency into your crypto wallet.
How to Buy Crypto Vouchers with a Credit Card
You can create an account on the Crypto Vouchers website with a Visa or Mastercard credit card. You'll need to get verified, buy a crypto wallet with a credit card, and redeem it for cryptocurrency in less than one hour. Still, to buy a Crypto Voucher with a credit card, you need to create an account on the official Crypto Voucher website.
Step 1: Navigate to the website and click the 'Create Account' button in the upper right corner. Enter your email address and select 'Register.'
Step 2: The Crypto Voucher system will emailyou a link to confirm your email address. Follow the link, create and enter a strong password twice, then click 'Sign in.'
Step 3: Next up will be entering your country code and phone number. Choose 'Send SMS code,' input the code the system sent you, then select 'Confirm.'
Step 4: Once registered, proceed with the 3-step verification process. This process aligns with the Crypto Voucher website's Know Your Customer (KYC) policy. You should be able to access the website's full functionality and high-value purchases as soon as you are through.
Enter your details in the fields, then select 'Continue.' Add information regarding what you will use the voucher for and the source of funds you will spend to buy it.
The site will then request documents to verify your identity. The "Automatic KYC" option should take only 5-10 minutes. Prepare your identification documents (national ID, passport, or driver's license) and set up your device camera to ease this step.
The system will guide you in taking both front and back pictures of your document and a picture of your face. You may also upload your documents and a passport photo if your device's camera is unreliable. When all the required files are uploaded, select 'Continue.' The system will notify you of the verification results via email.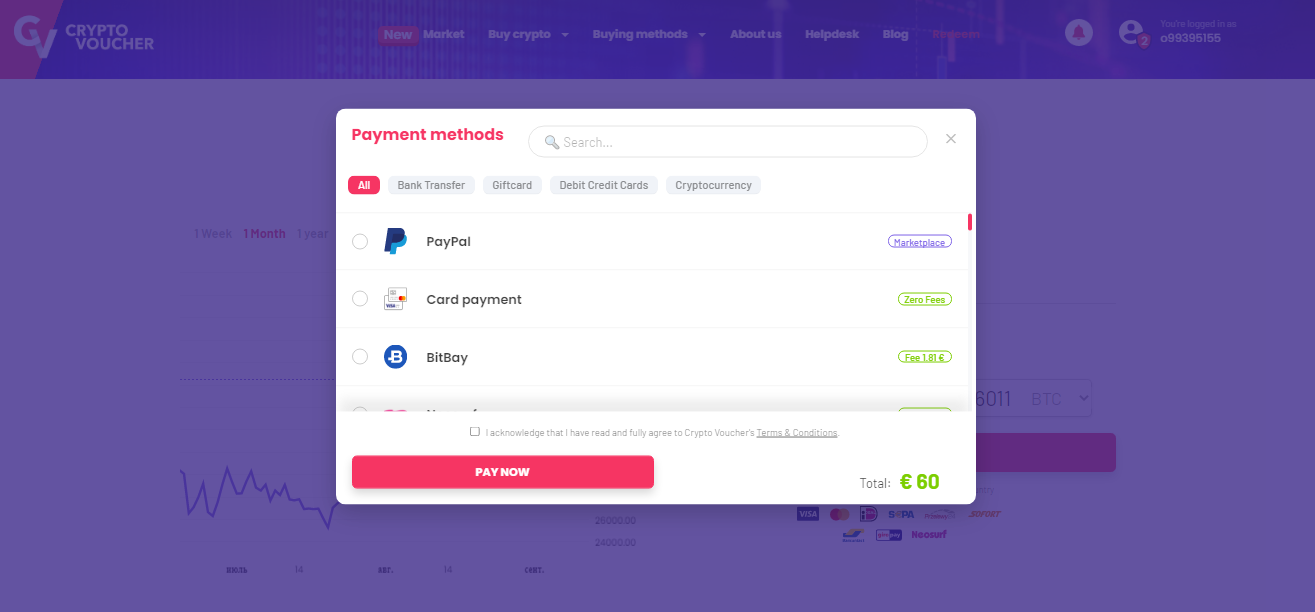 Step 5: Once verified, you can purchase the vouchers via credit card. Log in to your account on the Crypto Voucher website, then navigate to the 'Quick Buy' option. Here, you will see various voucher denominations. The line below the denomination you choose should display the value of the cryptocurrency you intend to buy.
Select 'Buy Now' to buy a Crypto Voucher when you are ready to pay for it. A new window will show all the payment methods available in your country. Choose 'Card Payment,' enter the credit card details, then click 'Pay Now.'
If the payment is successful, you'll receive a notification and a prompt to either redeem your voucher or return to your account. Also, under 'My Account,' you can view all your available Crypto Vouchers.
Tips for Ensuring a Safe and Secure Transaction
As you look to buy Crypto Vouchers with a credit card, it's imperative to take certain precautions to ensure a safe and secure transaction. Follow these tips to help protect yourself from fraud, scams, and other risks.
I. Protect Your Crypto Voucher Website Logins
Choose a complex password with uppercase and lowercase letters, numbers, and special characters so fraudsters and device thieves cannot guess it. Moreover, consider changing your password often, and do not write it down.
II. Buy Crypto Vouchers Only from Authorized Distributors
While many people visit the official Crypto Voucher website to purchase these vouchers, some buy from third-party firms and services that offer additional vouchers and gift card products. Choose a Crypto Voucher distributor listed on the official website for safety.
If you choose another provider, ensure they are trustworthy by checking review sites like Trustpilot. Double-check every last detail before making any payment.
III. Avoid Sharing the Details of Your Crypto Voucher Transactions
Never share emails containing your Crypto Voucher code or account details via text, email, or social media. Verification websites should not request your voucher code either.
To purchase new crypto or upgrade, visit the official Crypto Voucher site or that of an authorized distributor. Finally, never allow your browser to 'Remember' your credit card details. Even though you use a personal device, it may land in the wrong hands.
Common Pitfalls to Avoid When Buying A Crypto Voucher Online
Of course, digital safety starts with you. So, here are things to not do when and after buying your Crypto Voucher using your credit card.
I. Redeem Your Crypto Voucher on Time
Upon purchasing your Crypto Voucher, the voucher code sent to your email will be valid for 180 days. Be sure to redeem it for any available cryptocurrencies within that timeframe, upon which the currency will reflect in your wallet in 10 minutes. Moreover, you should redeem the voucher in one go, and it may only be redeemed for a single cryptocurrency.
II. Enter the Right Crypto Wallet for Cryptocurrency Deposit
When redeeming Bitcoins from your Crypto Voucher gift card, ensure you insert the correct crypto wallet address. Transactions on the blockchain are irreversible, so double-check your wallet address to avoid losing any cryptocurrency.
III. Ensure You Are Aware of All Transaction Fees and Commissions
Different credit card providers and authorized Crypto Voucher distributors have different transaction fees and commissions that you want to be aware of to make an informed decision.
Advantages of Buying Crypto Vouchers with a Credit Card
Why should you use a credits cart to buy a Crypto Voucher online?
I. Straightforward Payment Process
Buying a Crypto Voucher with a credit card is as simple as adding the correct details on the official website after logging into your account.
II. Faster Processing Times
Credit cards, being a widely accepted means of payment, makes buying Crypto Vouchers with one seamless. Payments are processed quickly, with the website reporting successful transactions in minutes.
III. Ability to Earn Rewards or Cashback on Purchases
Using your credit cards to buy a Crypto Voucher also includes deals such as cashback, discounts, and points.
IV. Protection Against Fraud or Theft
Many reputable prepaid and credit card providers have excellent systems to protect clients from fraud. Such transactions are blocked as soon as suspicion is raised. Moreover, credit card users are also protected from liability resulting from fraudulent card usage.
Benefits of Using Crypto Vouchers
Here are some key benefits of using Crypto Vouchers to purchase crypto-currencies online.
I. User-friendly
If you are new in the digital currency space, Crypto Vouchers or gift cards are the easiest way to buy digital currency. Having eliminated the traditional, more daunting channels, purchasing a voucher online is a matter of a few clicks on a user-friendly interface from the USA and other parts of the world.
II. Convenient
Transactions for payment for Crypto Vouchers or gift cards are instant. The site offers instant delivery of the purchased crypto wallet code. You should then be able to buy Bitcoin, buy products worldwide, make investments, and trade instantly. Moreover, redeeming your Crypto Voucher will be as simple as providing your crypto wallet address, selecting the cryptocurrency you wish to purchase, then clicking 'Redeem.'
III. Cheaper
The transaction fees for redeeming a Crypto Voucher to purchase Bitcoin and other cryptocurrencies are lower than those for buying them via a traditional exchange. Moreover, overpayments are not required while using a Crypto Voucher.
IV. Secure
Traditional gift cards and vouchers rely on trust that their processors, distributors, buyers, and sellers will not redeem them before their intended user does. However, Crypto Vouchers use the same blockchain technology that makes crypto exchange secure.
Each transaction transferring Crypto Vouchers from one digital wallet to another has its own address, meaning fraudsters cannot use other addresses to obtain their value. Again, unlike other gift cards, once a Crypto Voucher is redeemed into a digital wallet, only the wallet owner with their private key can perform successful transactions.
Even better- buying a Crypto Voucher is secure with over 70 verified payment methods. In this article, we looked into the process of buying a Crypto Voucher with credit cards, which is the most popular payment method for newbies and veterans in the crypto space.
Conclusion
Crypto Voucher gift cards are the best solution for anyone looking to join the digital currency market swiftly. The Crypto Vouchers website offers a user-friendly and convenient method to purchase cryptocurrency online using a Visa or Mastercard credit card. You can join the millions making huge financial moves trading in Bitcoin and other cryptocurrencies in a few clicks.